Author of two fantasy books, "Sun Valley, Moon Mountains," and "The Girl From Ipanema." The third book in the UR Legend Trilogy comes out in 2018.

I was born in Danbury, CT in 1950.  I 'prepped' at Danbury High School and went on to receive an A.B. in 1972 from Princeton, where I majored in Public Affairs at the Woodrow Wilson School and concentrated in Economics.  In those days, you took subject specific SATs for advanced placement or to 'klep' out of basic curriculum requirements.  I took the Writing Sample and received the highest grade at that time—5.  I thought this to be absurd, since I felt the only writing I could produce of any quality was academic prose.  And besides, I really had nothing to say.  I never took an English course at college, though I loved to read and still do.
I wandered onto Wall Street, since I didn't have the money to go to graduate school, and since I really liked Monetary Theory.  Trading has been my vocation ever since.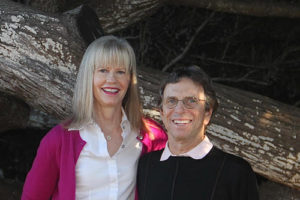 In 1991, after my wife, Linda, and I moved from Brooklyn to Denver, we got pregnant. Finally.  After ten long frustrating, but fun, years trying to have a child (fun because of the process, frustrating because of the constant failure).  Then, ten days before Katie's due date, on February 12, 1992, at a routine OB appointment, catastrophe struck.  Linda had a crash C-section and our daughter, who most likely had too short an umbilical cord and, whatever the cause, went without oxygen for too long, was born dead and, unfortunately for her, but fortunately for us, since we were able to experience parenthood, she was revived.  Cortically blind and deaf, with Hi-tone/Low-tone CP, unable to suck or swallow and fed by a G-tube, she died seven months later on September 9, 1992.
Our mourning process was differential, and we had to respect one another's place on the emotional grid on any given day.  We grappled with the 'why's'.  We came to the conclusion, as Lao Tsu expressed it in the 'Tao te Chang', that 'Nature does not play favorites.  She regards her creations without sentimentality'.  We were, after Katie's death, as we had tried to be while she was alive,  Stoics.
About a year and a half later, on a very cold afternoon in mid-winter, Linda and I lay down to take a nap.  Our bedroom had Western exposure, and the crackling yellow-white light of afternoon suffused the space and warmed us like a blanket.  Soon, Linda was breathing deeply and evenly.  My mind rocked itself in a hammock of thick atmosphere.  Slowly, it picked up the threads of a few stray thoughts, and I had an idea for a short story.  The short story ended up becoming a long novel, which grew into a series of novels.  I finally had something to write about.