I grew up doing lake and ocean fishing. So how did I become a fly fishing addict? Linda.
Two weeks ago I wrote about my early 'career' as a fisherman. Here's more of the story.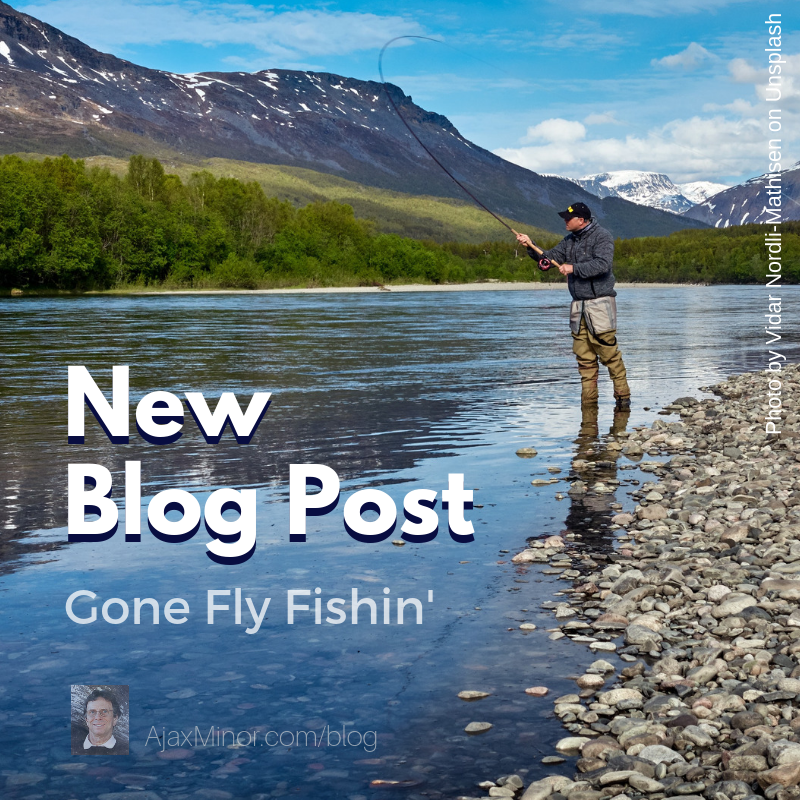 Linda grew up playing golf and had never fished until we took a backpacking trip to the gorgeous Wind River Range in Wyoming in 1980. In Colorado, where we lived for 20 years, you are often either in the forest or above treeline. However in the Winds you exit the forest at around 10000 feet and the footpath can go through open meadows with a clear vista of the high peaks beyond. The trail winds through rolling fields of bright green grass studded with glacial boulders and wildflowers. Magnificent.
Most lakes have little or no room to backcast so spinning gear is the ticket. To throw the light monofilament line on a spinning reel, artificial lures, such as Daredevils, must be used. Another option is a clear plastic bubble that can be filled with water and then stoppered shut, providing the weight to launch a light fly.
Usually we would pack in the first night's meal. Chicken for example. After that you are on your own and at the mercy of feeding fish. Usually the trout were cooperative. Linda became fascinated with the sport and we would cook an evening meal and sometimes a breakfast of freshly caught trout and eggs. Those were the days when campfires were still allowed and the smell of burning pine and frying trout was magical. At night we would sit and look down onto the plains below glowing pink orange under the setting sun.
After we returned to New York, Linda asked if I had ever fly fished. I hadn't. And so she signed us up for a weekend at the Joan and Lee Wulff Fly Fishing School on the Beaverkill, one of the original birthplaces of American fly fishing, along with the Neversink, Willoweemoc and Esopus, in the 1800s. Well, to pun, we were 'hooked'.
Fly fishing is suited perfectly to a lifelong passion. You can indulge your interest and focus on fly tying, etymology, riparian systems or even rod building. It is also a great way to relax, though not in the conventional 'lying in a hammock and reading a book' way.  The sport requires intense concentration and so it is impossible to do anything other than focus on your dry fly or nymph indicator if you want to have a chance of 'sticking' your fish. They are FAST!
Throwing a fly line also requires lots of practice. Though not as difficult as swinging a golf club, it is in the same area code. The fly must be landed in precisely the right spot where fish are holding and then the line handled and mended so as not to crate any 'drag' that would spook the fish or in any way look unnatural. It takes years of practice. For years I couldn't avoid watching my line on the backcast, which would invariably wind up with me eating my own fly! And then there is WIND. Driving fly line into a 20 mile an hour breeze is no mean feat.
I'll be posting some pictures from our recent trip to Idaho over the next week and then talk more about the differences fishing free stone rivers and spring creeks as well as between dry fly fishing and nymphing. Check out the pics on Facebook or Instagram.