Over the next month I am going to post work by a pair of authors, neither published. One is a storyteller, the other a poet. As a matter of full disclosure, the author of this week's short story is my sister, Joanne Sinsar Trebbe.  I believe she is a real talent.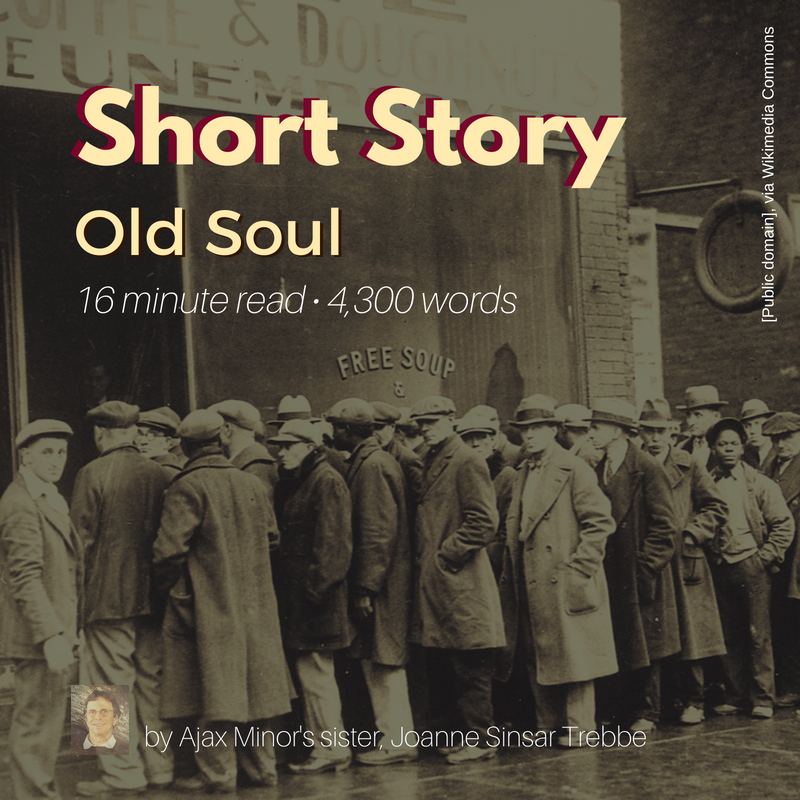 I first read a composition she wrote in the sixth grade. Boy, was I impressed with her talent, and I encouraged her to write more. Unfortunately, the demands of family limited her creative output. But what she has produced has real merit.
If you like this story, give a shout on Facebook or Twitter, or here on my Ajax Minor site and encourage her to publish what I think is a terrific novella for children, 'Charlie'. It is about a little boy, Charlie, who is a giant and lives among we normal sized humans.
(As for the poet, you'll hear more about her when I publish one of her poems in a few weeks.)
As for The Old Soul, the inspiration for the context is drawn from our own mother's stories about her childhood during the Great Depression. YES, she did live in a house where the only source of heat was a coal stove in the kitchen. Our grandfather worked for the New York, New Haven and Hartford railroad in Danbury, CT. For those who know Danbury, once the Hat City of the World, the house was on East Liberty Street.
Click here to read "The Old Soul," by Joanne Sinsar Trebbe » and don't forget to let her know what you think!