In a recent Facebook post I had asked if anyone would like to submit a poem and I received FIVE new works!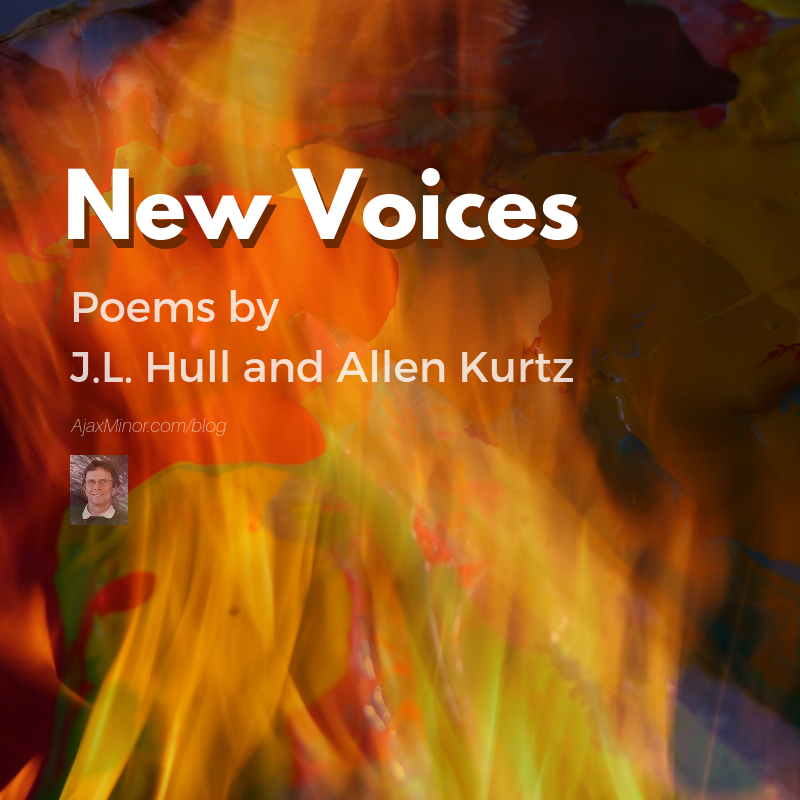 Last week I published a poem by Keith Jason Carlock: The Autumn Victorian, a lovely poem about Love and Death.
This week I am publishing, with permission, two more: And Every Hue by J.L. Hull and another, Untitled, by Allen Kurtz.
I hope you enjoy them, and next week I will publish two more. They are recorded here without comment but I'll be asking for impressions on my Ajax Minor Facebook page this coming week. Great to find people expressing themselves in verse!
AND EVERY OTHER HUE. . .
by J.L. Hull
I need fire
I need flame
I need blood to flow
I need to be awakened
By the spirit that once gave birth
To who it is im meant to be
Let the color spill upon my palate
Brush pressed deep into the canvas
So that even my bones can feel it
Give me liberty or give me death
Feed me the freedom of expression
And let the pigment bleed the colors of my spirit
I am dying in this darkness
My creative spirit yearns to breathe
Yearns to bleed
Yearns to be
Yearns to paint the truth upon the skin of those who doubted
And I shout it out from unbroken depths
Free me from this hell
And give me way
Im dying within
And no one seems to notice
So give me grandeur
That they may see my heart again
So that every moment is forever
Upon this blank canvas
Raw umber
Cadmium red
Black and blue
And every other hue
---
Untitled
by Allen Kurtz
My thoughts are so jaded no Beauty before my eyes
What's the point anyway in the end everyone dies
So Raise Your Glass and make a toast to my premeditated overdose
I don't feel a thing I'm comatosed I'm sorry this pain just had to end